Introduction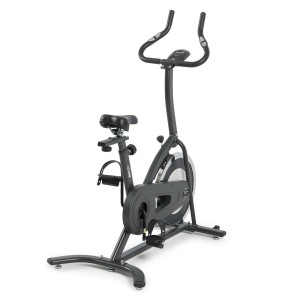 If you are looking to buy a low-cost upright bike for your home, you will know that there are hundreds of different models to choose from.
Most of them are very similar in terms of features, performance and appearance, and this applies to the new Alpine Exercise Bicycle with LCD Screen as well because there is nothing about this bike that makes it stand out from all the others.
Nevertheless I thought I would review this new 2016 model anyway because I'm sure that many people are considering buying this particular machine right now.
Features And Benefits
adjustable magnetic resistance
easy-to-read LCD screen
track time, speed, distance, calories and pulse
hand-grip pulse sensors
fully adjustable seat
built-in transport wheels
includes end caps for added stability
sturdy frame
very easy to assemble
suitable for anyone up to 250 pounds
Product Dimensions / Weight
This upright exercise bike from Alpine has dimensions (in inches) of 42 (L) x 23.5 (W) x 52.25 (H) when it is fully assembled, and weighs approximately 73 pounds. If you do want to move it from one room to another, there are transport wheels attached to the front of the bike that will make this task a lot easier.
Positives
As well as being very reasonably priced, there are a number of other reasons why you should consider buying this Alpine Exercise Bike.
For a start, this is a strong and sturdy machine that is capable of accommodating anyone up to 250 pounds, and you should find that there is no movement whatsoever when you are working out because there are end caps attached to the bottom of the frame that are designed to prevent this problem.
It is indeed suitable for men and women of all heights because unlike the seat on some bikes, which can only be adjusted upwards and downwards, this one can be adjusted forwards and backwards as well.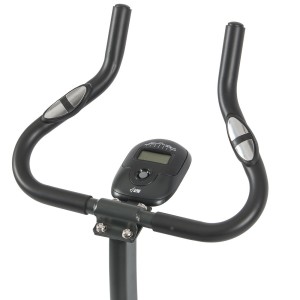 This particular machine has adjustable magnetic resistance so that you can make your workout as easy or as hard as you want it to be, and has an LCD screen in the middle of the handlebars that will enable you to track your performance.
This display is easy to read and will indicate time, speed, distance covered and calories burned. Plus if you place your hands on the pulse sensors on the handlebars, it will also indicate your heart rate as well.
Finally, it is worth pointing out that unlike some fitness machines that can take several hours to assemble, this one is said to be very easy to assemble and shouldn't take you very long at all.
Negatives
This Alpine Exercise Bicycle does have a four-way adjustable seat, which is one of its main benefits, but you might find that the seat itself is a little uncomfortable and needs to be replaced with a more comfortable one.
This is quite a common problem, and is something to bear in mind if you do decide to purchase this particular machine.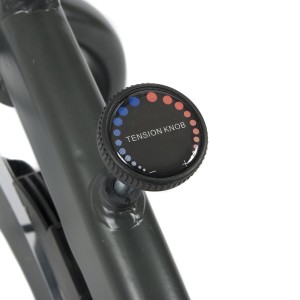 It is also worth pointing out that although you can adjust the resistance, there doesn't appear to be any fixed resistance settings, from 1 to 8, for example, like you get on many other low-cost exercise bikes.
This isn't a major issue, particularly if you set it to the same resistance all the time, but it can be annoying if you like to adjust the resistance throughout your workout and would prefer to use the exact same settings every time.
Apart from these two issues, it is hard to find too many other faults. I guess you could argue that it would have been very easy to include a water bottle holder on the vertical part of the frame, and a little more thought could have gone into the design and the color scheme because it is a very dull grey color, but I don't think many people will be overly concerned about these two points.
Final Thoughts
Overall I think this would be a fairly good choice for anyone who wants to get fit and lose weight at home, despite the fact that it has a few flaws.
That's because it has a wide range of resistance and comes with a decent enough LCD display, and is solid and stable even when you are cycling hard.
Yes you might have to replace the seat if you are planning on doing fairly lengthy workouts, and it will be prone to wear and tear over time because of the way that tension is applied to the flywheel.
However because it is so reasonably priced, you could always replace it with a new model fairly cheaply if anything does go wrong with this bike.
→ Click here to buy the Alpine Exercise Bicycle with LCD Screen