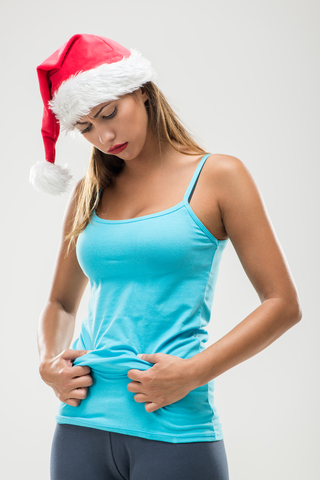 Christmas is always a difficult time of the year for both men and women because with so much food and drink to consume over the festive period, it is all too easy to put on a few extra pounds.
Indeed this is why so many people decide to join a gym or buy some home fitness equipment in the New Year in an attempt to lose some of this excess weight.
So to help you avoid having to deal with this problem yourself, I thought it would be a good idea to discuss some of the most effective ways you can stay slim over the Christmas (and New Year) period.
Limit Your Food And Alcohol Consumption
The most obvious way to maintain your figure is to avoid eating too much food and avoid drinking too much alcohol. This is easier said than done, of course, but as this is the major cause of weight gain, it makes sense to at least reduce your intake slightly.
One strategy is to drink lots of water throughout the day in order to fill your stomach and reduce your cravings for food, and to act as a substitute for alcohol.
However I understand that Christmas is a time to enjoy yourself and enjoy eating and drinking with your loved ones, so I have listed below several other ways that you can stay slim over Christmas.
Don't Stop Going To The Gym
One of the reasons why people pile on the weight is because they are eating and drinking more, and therefore consuming a lot more calories, whilst at the same time neglecting to do any exercise to compensate for this over-consumption.
This is understandable because no-one wants to go for a workout over the Christmas holidays when they could be spending time with their families. Nevertheless it is still a good idea to set aside an hour of your day to go to the gym and get an intense workout on one of the cardio machines, such as the exercise bike, elliptical machine or treadmill.
Go For Walks Every Day
If you don't want to go to the gym, then you should think about going for a brisk 30-60 minute walk every day because this is an easy way to burn a few calories and keep your figure (or at least limit any weight gain).
A lot of families will go for a walk after they have finished their Christmas lunch on Christmas Day, but it is also a good idea to go for regular walks throughout the holidays, particularly as it is something that the whole family can enjoy.
Buy A Workout DVD
If you are someone who watches a lot of TV over the Christmas and New Year holidays, you will inevitably see lots of adverts for all the latest fitness DVDs, particularly from 26 December onwards when many of the new workout DVDs first go on sale.
Some people are very skeptical about these DVDs, but if you follow along to the workouts at home, you will burn several hundred calories each time. So they will help you to stay slim and avoid putting on too much weight if you start doing one of these workouts shortly after Christmas.
Keep Moving
If you really don't feel like going to the gym, going for walks or working out at home, then you should at least make an effort to get out of your armchair and move around a lot more. That's because the combination of eating too much and resting too much will inevitably lead to weight gain.
So instead of sitting down all day, you could try to play with your children, clean the house and do the washing up, for example. Plus whenever you have five or ten minutes to spare, you could also do some simple exercises that will get your heart pumping, such as push-ups, squats, burpees and walking up and down your stairs.
Christmas is all about spending quality time with your friends and loved ones, but it is still possible to do so without piling on the pounds if you follow some of this advice.