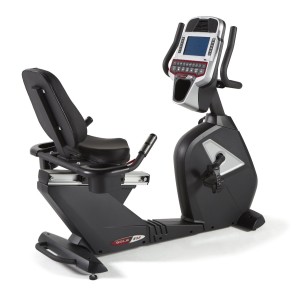 Recumbent exercise bikes are often found in physiotherapy centers, treatment centers and health clubs because they can really help people get back in shape and regain their fitness after an injury due to the fact that they are easier and more comfortable to use than a conventional exercise bike.
However you will often find that these machines are also very popular with older people as well. So if you are in your 50s, 60s or 70s yourself and are wondering whether or not to buy one of these recumbent bikes, here are 3 of the main benefits:
Back Support
When you buy an indoor cycling bike or a stationary bike, you will often find that the seat becomes really uncomfortable after about 20-30 minutes, and in some cases you will have no option but to buy a gel seat cover or a thick padded seat because it is so uncomfortable to sit on.
Plus you may also find that your back starts to ache after a while because you are obviously pedalling away in a forward or upright position with no back support.
A recumbent bike, however, allows you to cycle in a reclining position and most importantly of all, comes with a back rest so that you can pedal away without any discomfort in your back.
Furthermore, because the seat resembles a normal chair, it is generally a lot more comfortable than a typical bicycle saddle that you get with spin bikes and upright bikes.
No Pressure On The Joints
Another reason why recumbent bikes are suitable for older men and women is because there is far less pressure on the joints when you use on of these machines.
You don't need to grip on to any handlebars because you can let your arms hang naturally to the side and support them with the arm rests, which means that you won't get any pain in your hands or wrists.
Similarly, because they allow you to cycle in a much more natural position, you won't be bending your head forward during your workout and creating pressure and discomfort in your neck.
No Discomfort In Your Feet Or Ankles
Many older people will often complain that their feet and ankles hurt after a long workout on an upright bike, but this generally isn't a problem on a recumbent bike because you are cycling in a much more natural position.
Plus if you buy one of the better machines, the pedals will generally be perfectly aligned, with just the right width between them, to minmize any discomfort as much as possible.
So this is another reason why people of a certain age will generally prefer using a recumbent bike instead of an upright bike.
Final Thoughts
I have already created a list of the top recumbent bikes should you wish to buy one of these machines, but it is worth mentioning that although many of the recumbent bicycles will offer these three main benefits, that will not always be the case with every single recumbent bike.
That's because if you end up buying one of the cheaper models, for instance, you may find that the pedals are too far apart and will hurt your knees or your hips after a while, or you may simply find that you still get some back pain because the seat rest is too hard or poorly designed.
So it's always a good idea to go into a store and ask if you can test out various different machines in order to find one that is comfortable to use. Even if you don't end up buying it in the store, you can always buy it online (often for a cheaper price) knowing that you will be happy with your purchase.