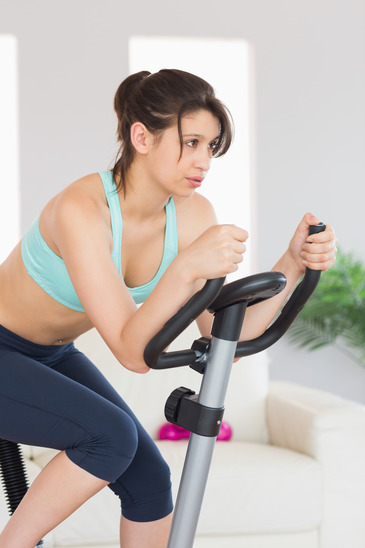 If you have ever used an exercise bike, you will know that it is very easy to get bored, particularly if you are planning on working out for as long as 30-60 minutes because this can seem like an eternity.
Subsequently a lot of people soon become fed up of this monotonous workout, and will either use some of the other exercise machines whenever they visit the gym, or will use the bike as a clothes horse, for example, if this is their own bike.
So in this article I thought it would be a good idea to list 10 different ways you can reduce boredom when using an exercise bike because I myself have been using an exercise bike at home for around 20 years now, and still don't find it that boring.
1. Listen To Some Music
If you jump on an exercise bike and pedal away for 30 minutes with no other distractions, then you will soon start to go insane because of the mind-numbing boredom. So at the very least you should listen to some music during your workout, and preferably some high-tempo dance music because I have always found that this helps me to go a lot faster, and makes the whole workout a lot more enjoyable.
2. Watch TV
In the old days you had to physically move the exercise bike in front of your TV if you wanted to watch your favorite TV shows, but you can now watch TV screens in your local gym, and can easily watch TV programs and movies at home if you have a laptop or iPad, for example. So this too will make the time pass a lot quicker, and you may even find that you will look forward to your workouts if you know that you will be watching an episode of your favorite show, for instance.
3. Read A Book / Magazine
I always find that the movement generated from my workout makes it quite difficult to focus on words and sentences when trying to read something. However if you yourself are able to read whilst using an exercise bike, you will find that a lot of modern exercise bikes come with their own reading racks / media trays should you wish to read a book or a magazine, or if you wish to read your Kindle device, for instance.
4. Learn A New Language
As silly as it may sound, I have always found that the time you spend on an exercise bike is a great time to learn something new, and is ideal for learning a new language, for example. When I first started learning Spanish, I listened to all 13 CDs whilst using my exercise bike, and found that it forces you to concentrate and takes your mind off the actual workout, which would oltherwise be really boring. If you don't want to learn a language, there are thousands of podcasts available from iTunes that will teach you something new and act as a useful distraction.
5. Find A Workout Partner
If you are someone who likes to use an exercise bike at the gym and find that you easily get bored watching their TV channels or listening to the same old music all the time, then you might want to find a workout partner who you can cycle along with because it is less tedious if you have someone to talk to. You can also make things more interesting by racing against each other and seeing who can cover a particular distance in the quickest time.
6. Set Yourself Targets
Even if you follow the advice above and listen to music or a podcast, for example, or watch your favorite TV shows at the same time, you should always set yourself targets. That's because not only does this stop you from easing off and going a little slower than normal, which can easily happen, but you will find that it makes your workout a little more interesting. I myself cycle for 20 km each time, and have a certain time that I like to try and beat each and every session, but I also have lots of intervals along the way where I will try to beat a certain time.
7. Mix Up Your Workouts
As well as setting yourself targets, it's also a good idea to mix up your workouts every now and then. For example, instead of covering the same distance each time and using the same resistance levels, you should do shorter workouts at higher resistance levels every now and then to build strength in your legs, and continue to challenge yourself as much as possible just to keep things fresh.
8. Consider Doing Some Spinning Workouts
If you are someone who only ever uses an upright bike, you might want to consider joining a spinning class, or performing your own interval workouts at home using an indoor cycling bike. These workouts are a lot more intense because you can pedal standing up as well as sitting down, and these different exercise routines will add a lot more variation to your workouts.
9. Buy A ProForm Tour de France Bike
If you have a lot of money to spend on a home exercise bicycle and want to make your exercise routine a lot more interesting, you might want to invest in the latest ProForm Tour de France bike because this will enable you to cycle along the exact Tour de France routes with the exact same inclines and declines, and will also enable you to cycle any road in the world using Google Maps.
10. Take Your Workout Outside
If you have tried many of my suggestions above, but still find yourself getting extremely bored on an exercise bike, then my final recommendation would be to take your workout outside and hit the road using a proper road bike. You will find that this will be so much more enjoyable because you can go anywhere you want, and it will still help you to get fit and lose weight. The only downside is that you can't exercise whenever you want because of the weather.