Introduction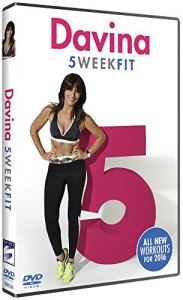 Davina McCall has released a number of workout DVDs over the years, but this one for 2016 takes a slightly different approach to all the others.
This Davina: 5 Week Fit DVD provides you with a complete 5-week workout program to help you successfully lose weight, improve your fitness and get in shape.
So if you are serious about slimming down in the New Year and are looking for a structured program that can help you achieve your target weight, or if you just want to tone up and become a lot fitter so that you have more energy and feel a lot better about yourself, you might want to consider buying this new DVD.
The Workouts
The workouts are based on the high intensity 7-minute workouts featured in her previous 7 Minute Fit DVD, but with the help of her personal trainer Ed Lumsden, they have come up with some brand new workout routines for 2016 that will push you just as hard, if not harder.
Short intensive workouts have been shown to be very effective at burning fat, and so these 7-minute workouts should be ideal because they are just the right length.
However if you do want to push yourself even further, you will find that each one has 3 minutes of additional exercises that you can do.
You will also find that there is a 21-minute cardio fitness challenge featured on this Davina: 5 Week Fit DVD that will help you improve your fitness level, burn fat and tone up your muscles, as well as an abs section that specifically works your abdominal muscles to help give you a flat and toned stomach.
So overall there are a wide variety of different exercises that you can perform, and there are even some tutorials on this DVD that will show you how to perform some of the more technical exercises.
Bonus Features
In addition to all of the workouts mentioned in the previous section, there is a free diary included with this DVD that will help you complete the 5-week training program.
This is really useful because it suggests which workouts you should do on which days if you want to optimize your results, and also includes plenty of rest days to allow you to recover between workouts.
In addition, there are also two warm-ups that you can do before your workouts, as well as a short series of stretching exercises that will help to loosen up your muscles.
Demonstration Video
I haven't yet been able to find Davina's demonstration video on Youtube, so I cannot embed it here in this article. However you can find a 3-minute demonstration video on the product page at Amazon that tells you a lot more about the workouts that are featured on this DVD (the link can be found below).
Final Thoughts
This Davina: 5 Week Fit DVD has been getting some very positive reviews, with many people agreeing that it is even better than her previous DVD (7 Minute Fit). So if you would like to lose weight or get in shape (and are committed to sticking to a rigid 5-week plan), this could help you achieve your goals: